Insights
Myth busters
Myth busting
Here we dispel some common myths and misconceptions about renewable energy
Myth
It's not sunny enough for solar PV to work well in the UK
---
Reality
Solar panels don't need direct sunlight to operate, and they produce electricity all year round. Power is generated even on a cloudy day in winter, just at a lower rate than bright summer's day. For example, at one point in February 2022, solar was providing more than 20% of the UK's electricity*.
(*Solar Energy UK - Fact Checker March 2022)
Myth
Solar power is a threat to UK farmland and food production
---
Reality
Ground-mounted solar panels currently occupy just 0.1% of all land in the UK.
Even with a five-fold increase in deployment – in line with the Government's Net Zero energy strategy – solar farms would only occupy 0.3% of the UK's total land area. This is equivalent to around 0.5% of the land currently used for farming – and roughly half of the space taken up by golf courses. (Carbon Brief Factcheck August 2022)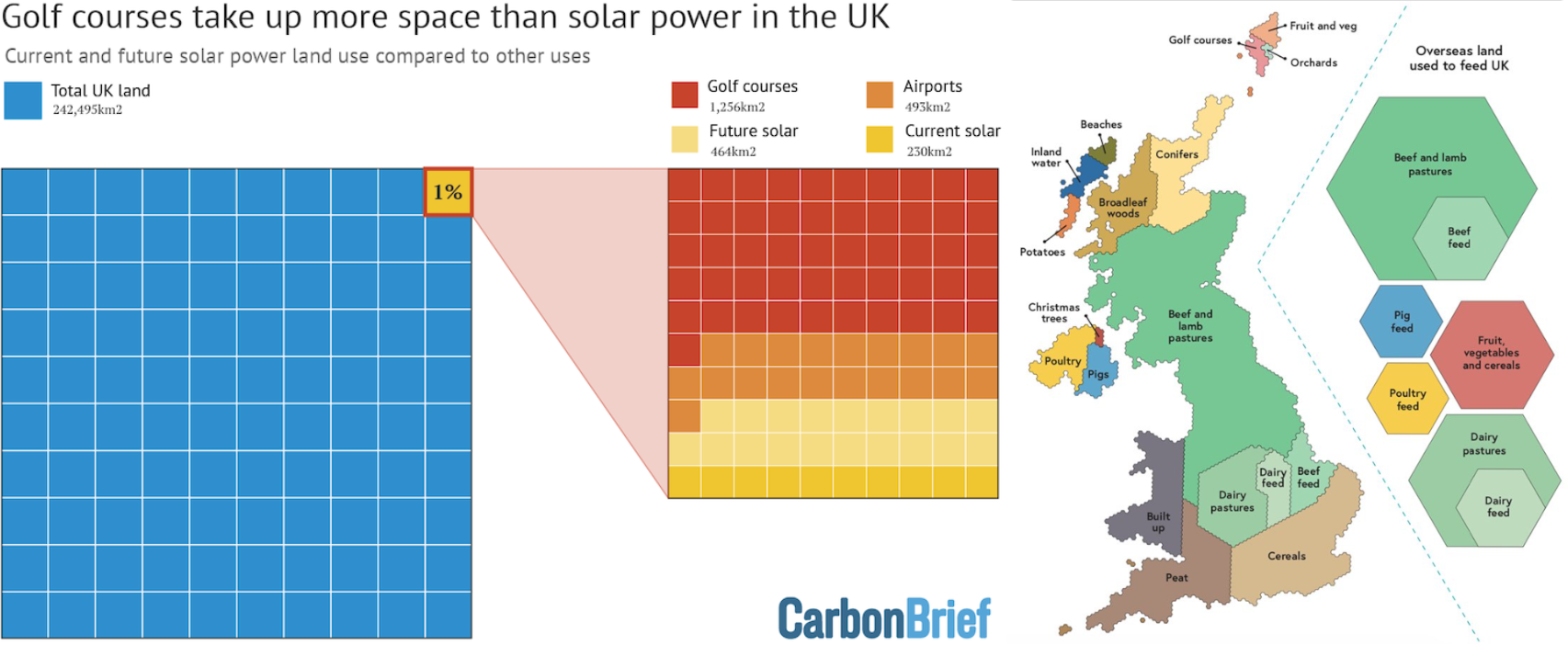 Myth
Renewables are too expensive
---
Reality
Renewables don't require any fuel to run - so the electrons they generate are remarkably cheap. In fact, renewable generation is already the cheapest way to produce energy globally.
Solar power is the cheapest electricity in history. (International Energy Agency's World Energy Outlook 2020.)
Solar is now 88% cheaper than thought a decade ago, according to the UK Government, and this is half its estimated cost of new gas power*. Just running a gas plant in February 2022 is costing around FOUR times as much as we'd pay for new solar or wind. Offshore wind is set to become cheaper than onshore wind thanks to larger turbines and stronger winds.
In fact, energy bills in the UK are nearly £2.5bn higher than they would have been if climate policies had not been scrapped over the past decade.**
*UK Government Electricity Generation Cost Report 2020
** Carbon Brief Analysis January 2022
Myth
Renewables are unreliable
---
Reality
Renewables may not generate 24/7 but they did provide a huge 43% of the nation's power in 2020*, and this is growing all the time. In early 2023 wind power hit a peak of supplying over half of all the UK's electricity use. For five months last year, low-carbon electricity sources (solar, wind, hydrogen and nuclear) constituted more than 50% of the country's energy use. Renewable UK's latest calculations show low carbon power sources produced 82.5 percent of Britain's electricity in the post-Christmas window from 27 December to 9 January. This cut gas demand by 1.31bn cubic meters, which would have cost £2.1 billion.

It's all about balance – and that's where flexibility and storage come in. The wind doesn't always blow and the sun doesn't always shine. Some days are very windy and sunny, generating an excess - so we need batteries to complement renewables and balance the system. Storage can help make the most of green energy, using it to manage peaks and troughs in demand and operate the electricity system as efficiently as possible – which keeps costs down too.
*National Grid 'Energy Explained'
Myth
Renewables aren't popular
---
Reality
The Government's public attitude tracking data from spring 2022 showed that:
85% of the public said that they supported the use of renewable energy for providing our electricity, fuel and heat.
83% of the public either strongly supported or supported offshore wind, and 78% felt the same about onshore wind.
Support for solar energy was at 87% - at least eight in ten people
*BEIS Public Attitudes Tracker Spring 2022